FREE SHIPPING on all PreggoBoxes.
10% OFF when you subscribe!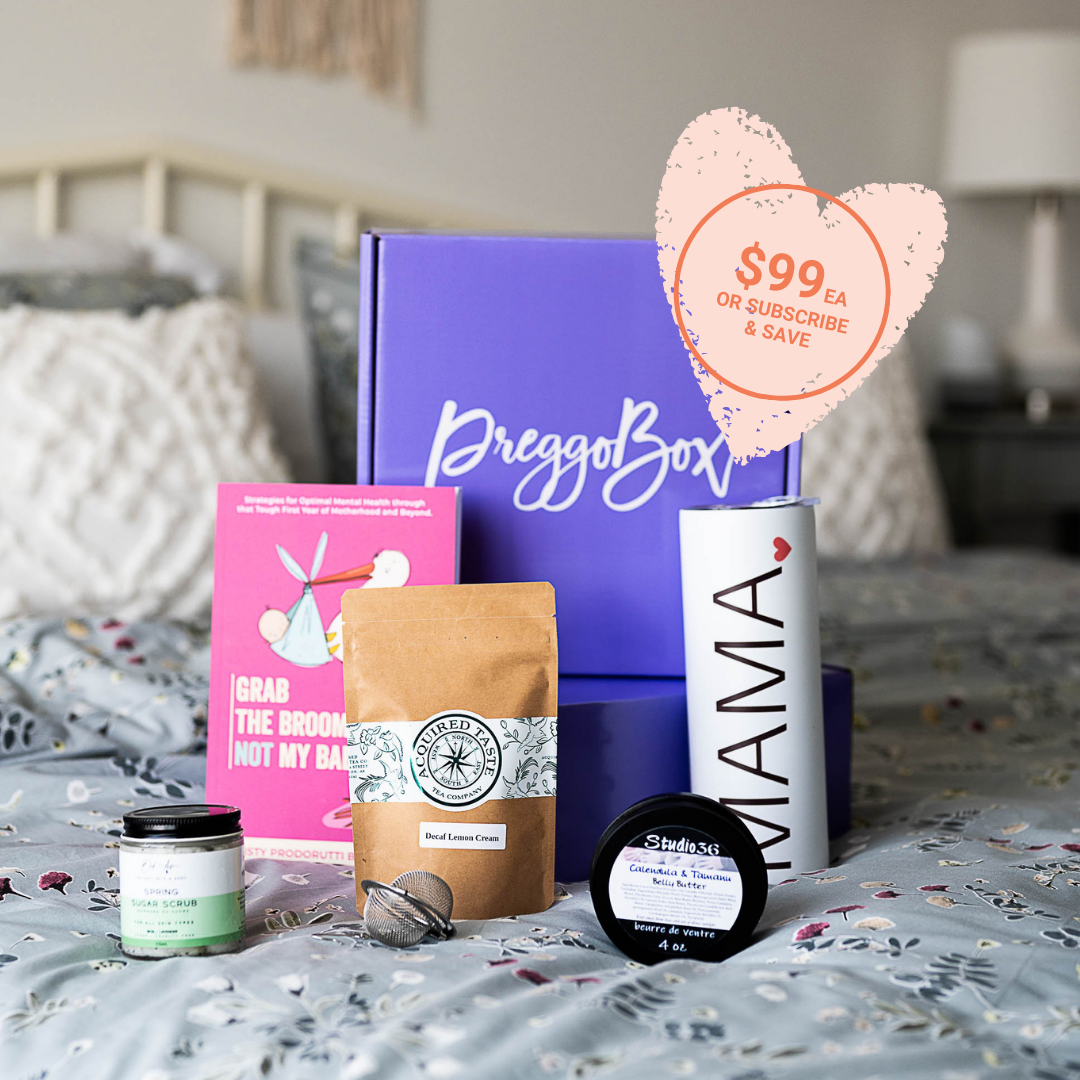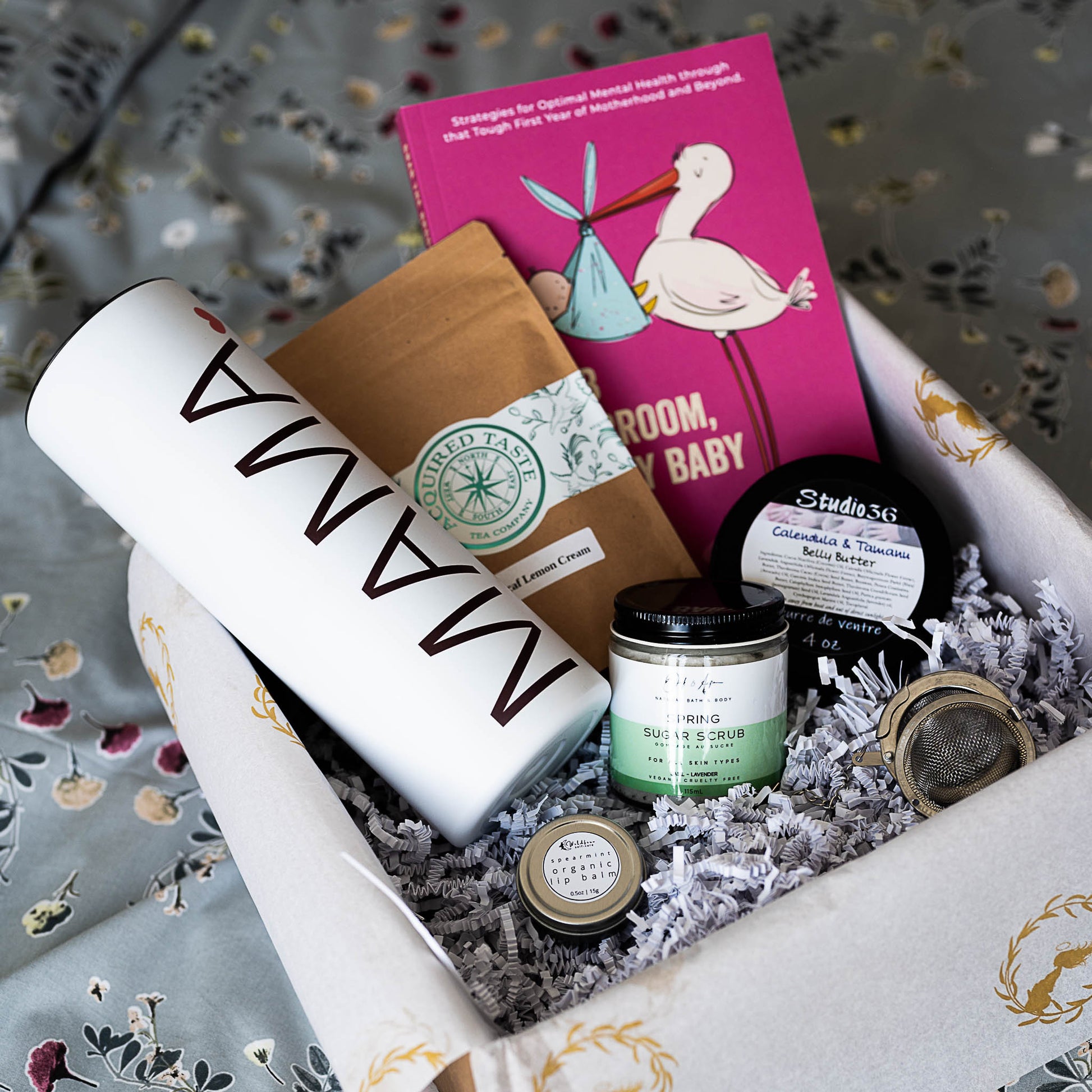 Sale price
$75.00 USD
Regular price
Weeks 13-27
This PreggoBox is Curated to Provide the New Mama With:
Help avoid dehydration

Dry and stretching skin relief

Morning sickness/nausea relief

Dry lips relief

Help with pregnancy/postpartum stress
Scroll below for a detailed product description and product listing.
Hey there, Mama-in-the-making! Congratulations on reaching your second trimester – you're doing amazing. Your journey may have its ups and downs, but don't worry, we've got your back with our Trimester Two PreggoBox – the ultimate pregnancy companion!

Packed with love from local Canadian small businesses, this handpicked gift box contains 6-8 premium products just for you!

Go ahead, explore the drop-downs below to unveil the goodies in this Second Trimester survival kit. Feel safe, confident, and glowing with PreggoBox by your side. You totally deserve this, Mama! You're in good hands, Mama. Enjoy this journey, and leave the rest to us.

✔ Items tailored to the Second Trimester
✔ 7 premium full size natural items sourced from Canadian small businesses
✔ Free shipping anywhere in Canada & US
✔ Delivered right to the doorstep
✔ Pregnancy made easy!
✔ Valued at $130
1. Belly Butter (unscented)
Handcrafted with natural ingredients, keeps the belly hydrated which helps to reduce tearing.

2. "MAMA" Tumbler
Keeps drinks hot or cold! Stay hydrated with this tumbler that keeps drinks cold for 12 hours. The tumbler will keep your drinks hot for 10 hours.

3. Sugar Scrub
Crafted with vanilla, clove and cinnamon essential oils this is the perfect scrub to accompany your cozy fall days. To combat dry skin, this sugar scrub leaves your skin hydrated and moisturized! We mark this scrub as a medium exfoliant, not too harsh but strong enough to get the job done!

4. Lip Balm
Handcrafted with natural ingredients to keep dry lips hydrated – a common occurrence during pregnancy.

5. Decaf Lemon Cream
You're starting to feel more normal during the 2nd trimester and a nice full flavoured decaf is decadent! Can help with morning sickness.

6. Tea Strainer
Catch the loose, dried tea leaves with a strainer while brewing yourself a hot cup of tea.

7. Novel on Transitioning to Motherhood & Beyond
A Canadian Nurse Educator shares her professional maternity expertise and her personal experience of transitioning into motherhood. The stories shared in these pages- sometimes funny, sometimes embarrassing but certainly heartwarming- shed light on what it takes to be supported and feel mentally healthy in that tough first year and beyond. Grab the Broom, Not My Baby is meant to encourage others to authentically share their journey, normalize the struggles and challenges of parenthood, and create resilient communities by uniting mothers everywhere.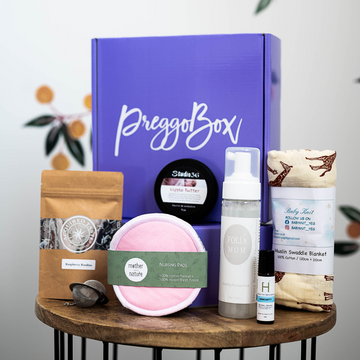 THOUGHTFULLY CURATED WITH
Only the good stuff
We choose our vendors slowly to ensure that what they care about is the same things that you care about.

We love working with small Canadian businesses & local makers because they often, have a story of family and growth just like you do.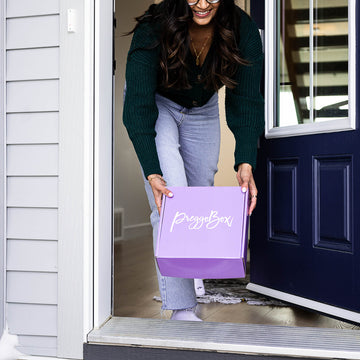 CURATED, BOXED & LOVINGLY
Shipped to your door.
There is no self-care more convenient for pregnant mamas than a delightful gift shipped right to your door anywhere in Canada & USA.

Subscribe to PreggoBox and we will take care of the rest.
You may also adore
Sale price
$12.00 USD
Regular price
Sale price
$12.00 USD
Regular price
Sale price
$19.00 USD
Regular price