FREE SHIPPING on all PreggoBoxes.
10% OFF when you subscribe!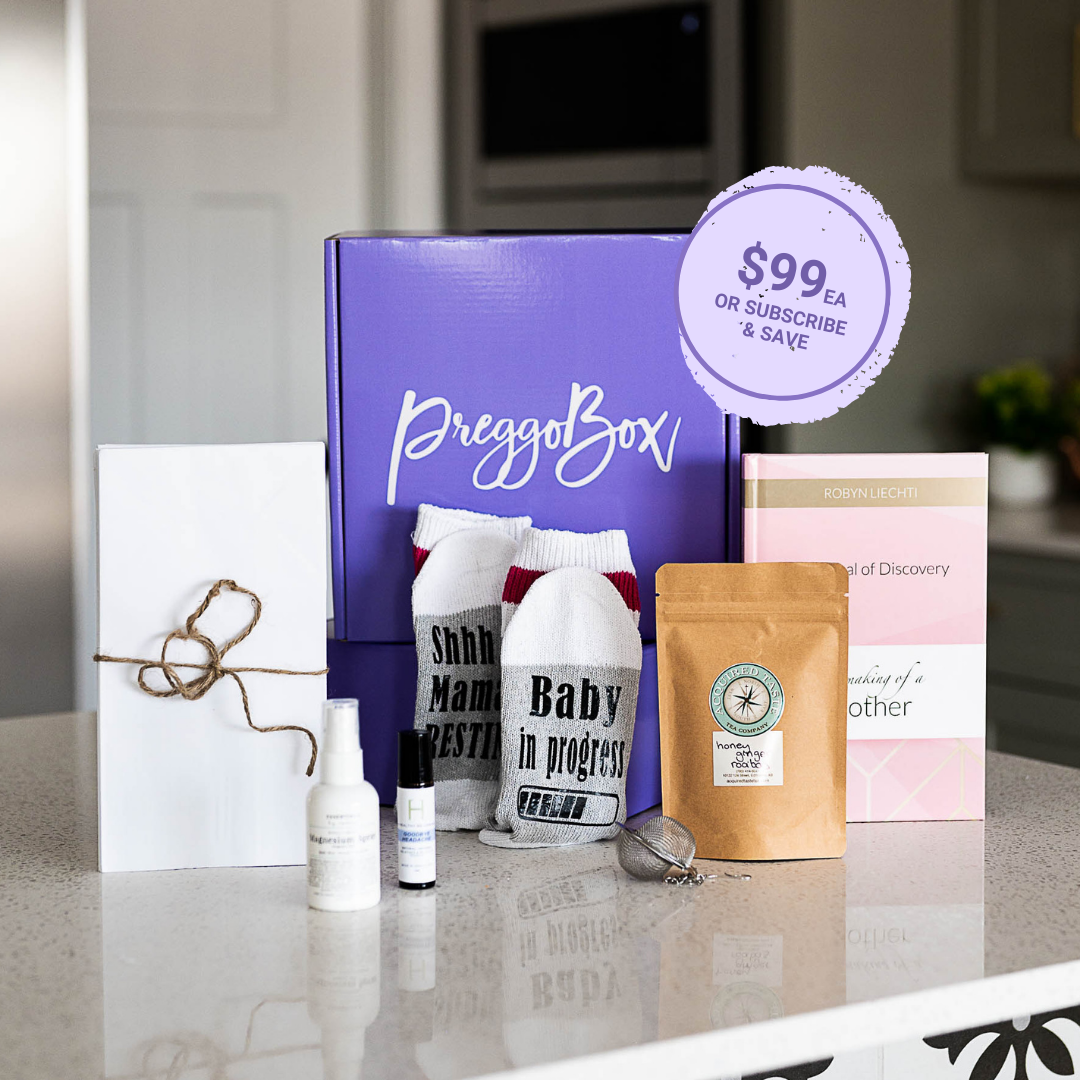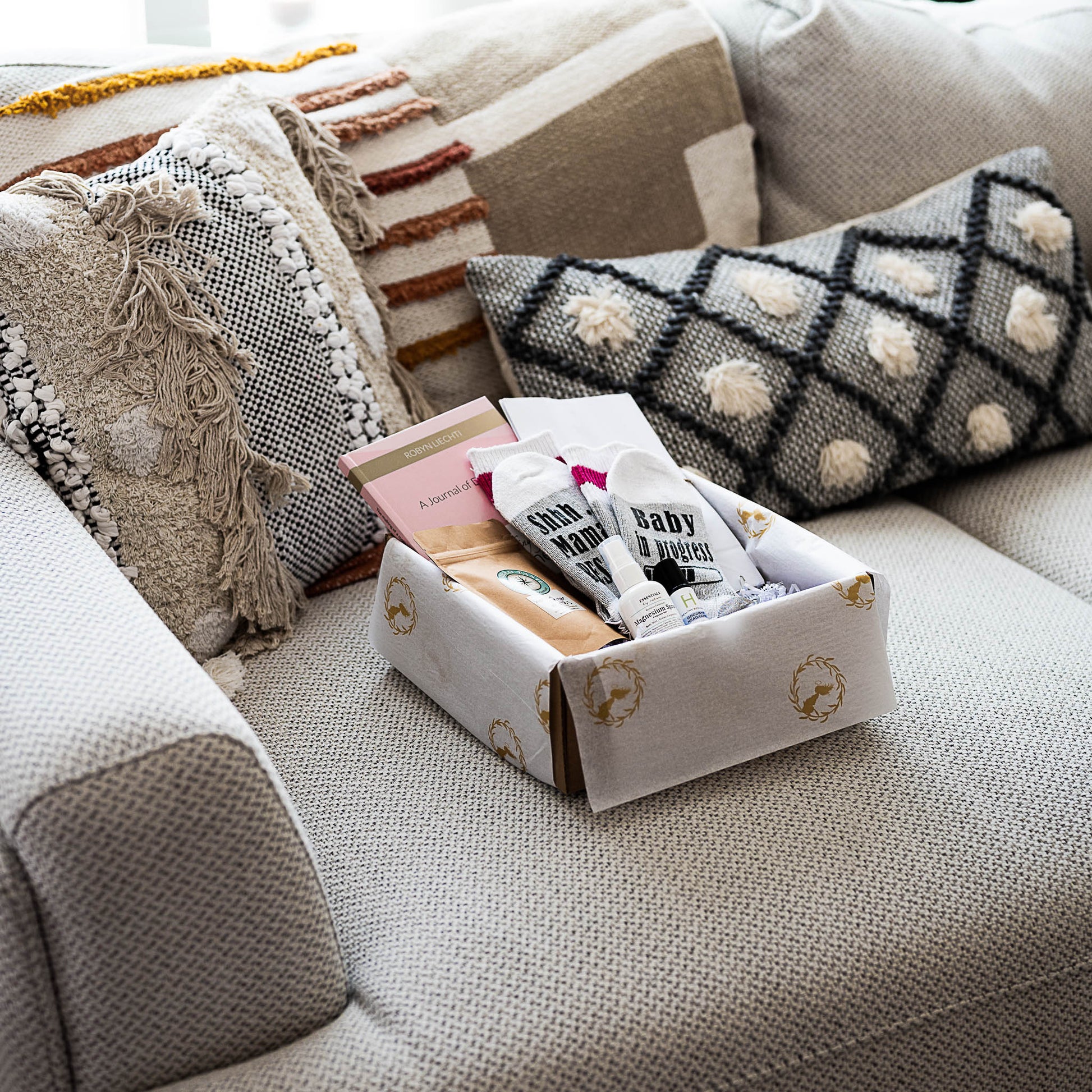 Sale price
$75.00 USD
Regular price
Weeks 1-12
This PreggoBox is Curated to Provide the New Mama With:
Relief from muscle aches, joint pain, restless leg & leg cramps

Valuable information, guidance, and positive affirmations

Morning sickness/nausea relief

Headaches/Migraines relief

Achy, swollen feet relief

Help with pregnancy stress
Scroll below for a detailed product description and product listing.
Hey there, Mama-to-be! Ready to kickstart your incredible pregnancy journey with a little help from PreggoBox? Introducing our fabulous First Trimester PreggoBox – your ultimate companion through the ups and downs of those early months.

We know how the first trimester can be a rollercoaster ride with morning sickness, fatigue, and all the rest. Fear not! Our PreggoBox is stocked with 6-8 handpicked, natural essentials, sourced lovingly from local Canadian small businesses. They'll pamper you like never before, and keep you feeling oh-so-nourished.

Go ahead, explore the drop-downs below to unveil the goodies in this First Trimester survival kit. Feel safe, confident, and glowing with PreggoBox by your side. You totally deserve this, Mama! Congratulations and enjoy the journey!

✔ Items tailored to the First Trimester
✔ 7 premium full size natural items sourced from Canadian small businesses
✔ Free shipping anywhere in Canada & US
✔ Delivered right to the doorstep
✔ Pregnancy made easy!
✔ Valued at $130
1. Morning Sickness/Nausea Relief - All Natural 30 Lemon Flavoured Chewables:
- All natural alternative to anti-nausea drugs. The powerful combination of ginger and B6 has been carefully divided so that you can take up to ten chewables throughout your day to keep your nausea at bay. We also carefully selected 1 natural flavour to suit most everyone's palates: Lemon. Say Goodbye to Nausea, Naturally

VEGAN
DAIRY FREE
CRUELTY FREE
MADE IN CANADA
NUT FREE

*Recognized by the Society of Obstetricians and Gynecologists' of Canada.*

2. Tension & Headache Relief Roll-On (15 ml):
- Natural relief for headaches with a blend of therapeutic essential oils. Relieve tension, provide clarity and give you a reset whenever needed. Apply to hairline, temples, and behind the ears. Can apply to the shoulders and neck.

3. Pregnancy Journal:
- Perfect for the mom who wants a few minutes to herself and a meaningful gift for her child. This memory book is a great way to relax, unwind, and share your experiences before and during motherhood.

4. Tea (Rooibos Honey Ginger):
- The perfect blend of honey+ginger+rooibos to solve your morning sickness woes! Caffeine-free.

5. Stainless Steel Tea Strainer:
- Be eco-friendly with this reusable stainless steel tea strainer + you can pair it with our tea!

6. Custom Socks:
- The socks read: "Shhh…Mama's Resting, Baby in Progress". A cute way to announce you're expecting, or to just kick your feet up and be cozy!

7. Magnesium Spray (59 ml):
- Promoting Relaxation & Well-being!!
Magnesium Spray, a game-changing topical solution designed to unlock the numerous health benefits of magnesium oil. Packed with essential minerals, this revolutionary product is formulated to provide fast-acting relief and support overall well-being.
Our Magnesium Spray delivers a highly bioavailable form of magnesium directly to your skin. By using our Magnesium Spray topically, you can effortlessly boost your magnesium levels and support overall wellness, including improved energy levels, help with morning sickness, muscle relaxation, and enhanced sleep quality.
We understand the importance of safety, especially when it comes to our loved ones. That's why our Magnesium Spray is safe for children over 2 years old, making it an ideal choice for the entire family. Additionally, it is formulated to be safe for use during pregnancy, allowing expectant mothers to enjoy the benefits of magnesium without worry.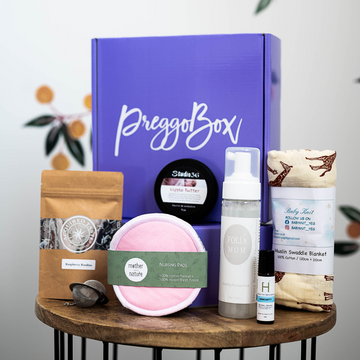 THOUGHTFULLY CURATED WITH
Only the good stuff
We choose our vendors slowly to ensure that what they care about is the same things that you care about.

We love working with small Canadian businesses & local makers because they often, have a story of family and growth just like you do.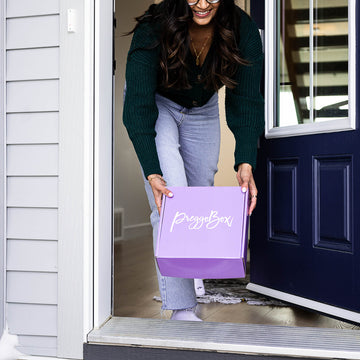 CURATED, BOXED & LOVINGLY
Shipped to your door.
There is no self-care more convenient for pregnant mamas than a delightful gift shipped right to your door anywhere in Canada & USA.

Subscribe to PreggoBox and we will take care of the rest.
You may also adore
Sale price
$12.00 USD
Regular price
Sale price
$12.00 USD
Regular price
Sale price
$19.00 USD
Regular price